Stanley Super Six Xmas Deals
*Stanley Super Six Xmas Deals*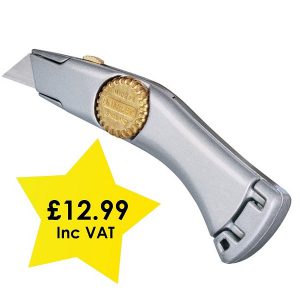 Retractable Blade Heavy-Duty Titan Trimming Knife
The Titan retractable knife is ideal for precision cutting of the most flexible to the most resistant materials, such as paper, cardboard, plastic or leather.
The lightweight aluminium body has a strong brass wheel for efficient locking of the blade.
Supplied with 3 blades.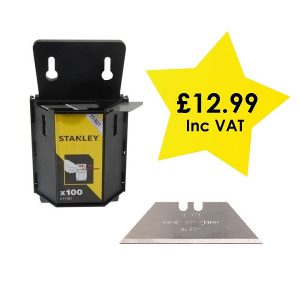 Knife Blades Heavy-Duty Pack of 100 Dispenser
The Stanley 1992B blades are heavy-duty, general purpose blades, which fit all standard Stanley knives. The trapezoid shaped blades are highly resistant and reversible.
These blades are ideal for carpet, vinyl and any other material requiring a stiffer and stronger blade.
Push blade dispenser 10 x 10 blades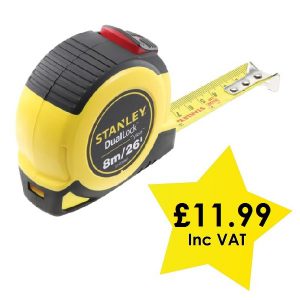 DualLock Tylon Pocket Tape 8m/26ft
The Stanley DualLock Pocket Tape has a corrosion resistant, long-life Tylon coated blade for greater durability and wear resistance of blade markings, for improved readability over time and prolonged product life.
DualLock™ consists of autolock plus a fixed blade lock with up to 1.75m of stand-out, for convenient and efficient measuring. The shock resistant case is fitted with an ergonomic bi-material grip for all day comfort.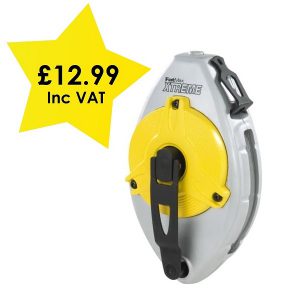 FatMax XL Chalk Line 30m / 100ft
The Stanley FatMax 30 metre chalk line is enclosed in a durable die-cast aluminium housing with a patented chalk view window to see exactly how much chalk is left.
A release button allows line extension without handle rotation and the line can be quickly rewound due to the 5:1 gear ratio.
Length: 30m (100 ft)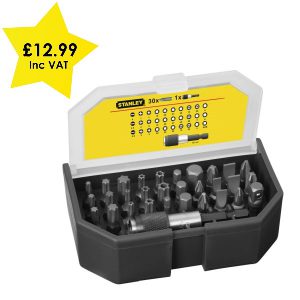 Bit Set & Holder, 31 Piece
This Stanley 31 piece set of 1/4in drive bits is supplied in a plastic case and contains:
3 x Phillips Bits: PH1, PH2 & PH3
3 x Pozi Bits: PZ1, PZ2 & PZ3
3 x Slotted Bits: 4, 4.5 & 5mm
11 x TORX Bits: T10, T15, T20(2), T25(2), T27(2), T30(2) & T40
5 x TORX Security Bits: T10, T15, T20, T25 & T30
4 x Hex Bits: 3, 4, 5 & 6
1 x 1/4in Drive Adaptor Bit
1 x 60mm Magnetic Bit Holder

Folding Pocket Knife with Wooden Handle
The Stanley 0-10-073 Folding Pocket Knife has an attractive wooden handle and a stainless steel folding mechanism, which offers durability as well as resistance to rust and corrosion. The knife can be conveniently folded into a handy size, and its pocket clip allows hands-free transportation whilst keeping the knife close to hand. The knife has a patented design, and its 'quick release' allows quick and easy blade change.
Supplied with general purpose blade. Please note, this blade is extremely sharp.
Product Options:
🚚 Fast, reliable local delivery in the Gloucestershire Area
We offer a prompt reliable local delivery service six days a week throughout Gloucestershire and surrounding areas. Read more about our delivery options.
Are you interested in Stanley Super Six Xmas Deals?
Why not email us, use our quote form or call on 01452 520783 for more information about Stanley Super Six Xmas Deals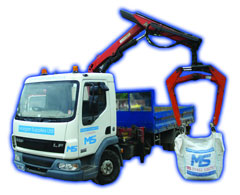 Fast, reliable local delivery in the Gloucestershire Area
You may also need:
This product lives in the following categories: