12Kg Pointfix 2-Part Jointing Compound
*Discontinued - Limited Stock - £29.99 Inc VAT / 12Kg Tub*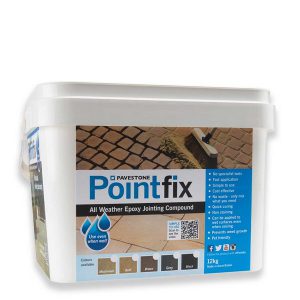 Pointfix – This all weather jointing compound is perfect for all types of natural stone and concrete paving. Stocked in five colours: mushroom, buff, grey and black.
Pointfix is a superior two pack multi-use jointing and repair compound. One pack contains epoxy resin within the compound and the other epoxy hardener. Once mixed the jointing compound cures to create a permanent hard jointing material.
Mixing and applying Pointfix is much cleaner and easier than traditional sand and cement mortar. Pointfix is specifically designed for pointing and infilling between many types of surfaces including concrete paving, natural stone paving, brickwork and stonework.
If it rains, or is forecast to rain, completing a traditional pointing project can become a major problem. Pointfix eliminates this problem as it can be applied even when the paving or bricks are wet and you can even carry on pointing when it rains.
1 x 12KG TUB COVERS APPROX 5-7M2 WITH AN AVERAGE JOINT WIDTH OF 6MM AND A 24MM DEPTH.
Available with four colour options to complement your paving: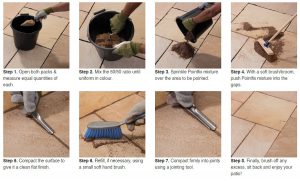 See below for a handy video showing you exactly how to use Pavestone Pointfix. Please note – This product is not suitable for use with Porcelain Paving.
Product Options:
🚚 Fast, reliable local delivery in the Gloucestershire Area
We offer a prompt reliable local delivery service six days a week throughout Gloucestershire and surrounding areas. Read more about our delivery options.
Are you interested in 12Kg Pointfix 2-Part Jointing Compound?
Why not email us, use our contact form or give us a call on 01452 520783 for more information about 12Kg Pointfix 2-Part Jointing Compound
This product lives in the following categories: