Specialist Security Alarm Padlock
This Security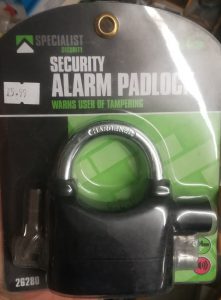 Alarm Padlock is a twin tone alarm padlock that will sound for 10 seconds if activated and will reset after 35 seconds without a trigger. There is a deep groove on the inside edge on one side of the shackle so that when fitted with the groove on the key side of the lock the alarm is active.
Combines the function of a padlock with the function of an alarm.
Built in movement triggered alarm, 110db siren sounds when the lock is hit or shaken.
Can be set with or without alarm mode.
Corrosion resistant and waterproof.
Supplied with batteries and 3 high security keys.
Product Options:
🚚 Fast, reliable local delivery in the Gloucestershire Area
We offer a prompt reliable local delivery service six days a week throughout Gloucestershire and surrounding areas. Read more about our delivery options.
Are you interested in Specialist Security Alarm Padlock?
Why not email us, use our contact form or give us a call on 01452 520783 for more information about Specialist Security Alarm Padlock
This product lives in the following categories: