Mortar Admix / Plasticiser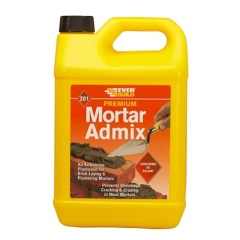 Admix is a solution of blended natural and synthetic polymers/resin for use with cement mortar in bricklaying and rendering work. Designed to increase the workability and plasticity of the mortar.
Available in 5ltr and 25ltr tubs
Product Options:
🚚 Fast, reliable local delivery in the Gloucestershire Area
We offer a prompt reliable local delivery service six days a week throughout Gloucestershire and surrounding areas. Read more about our delivery options.
Are you interested in Mortar Admix / Plasticiser?
Why not email us, use our contact form or give us a call on 01452 520783 for more information about Mortar Admix / Plasticiser
This product lives in the following categories: