Delivery
We offer a prompt reliable local delivery service six days a week throughout Gloucestershire and the surrounding areas. We generally offer delivery within a maximum 20miles of our yard at GL4 4PF.
Delivery charge is dependent on distance from our premises in Gloucester, GL4 4PF
Please provide a full postcode to obtain a precise quote for a valid delivery charge.
Delivery Vehicle Options
We have both small vehicles that are useful where delivery access is restricted and larger hiab vehicles for larger capacity deliveries.
We have the capacity to deliver loads of minimum 0.5 tonne (loose tip) right up to 10 tonnes.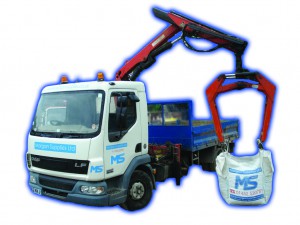 Small Tipper Van – Ideal for narrow locations, max 2 ton load
7.5 Ton Hiab – One of the most used and versatile vehicles within the fleet. Has the ability to crane Jumbo Sacks and full packs.
7.5 Ton Tipper – Can carry up to 3 tonnes of product.
6 Wheeler – Mainly for bulk orders and can carry up to 10 tonnes of product or 8 Jumbo Sacks
General Delivery FAQ

Can I set a time for my delivery?
When arranging delivery we may ask if you have a morning or afternoon choice but this can only be a guide and not guaranteed as vehicles can be delayed by traffic and other unforeseen circumstances. We will always try and keep you informed if there is a delay.
We can however call you prior to your delivery on the day to advise when likely to expect our driver if required – please mention this to our staff at the time of order if required.
Do I have to be in to receive the goods?
No, not necessarily. When ordering we will ask for any specific instructions if no one is going to be in for the delivery. We will always aim to deliver goods in a sensible safe place. We cannot accept any liability for any loss or damage to the goods once they have been delivered in accordance with your delivery instructions (unless this is caused by our negligence).
Will the driver carry the product round into the back garden?
No, due to insurances drivers and immediate employees are not permitted to access the rear of people's properties UNLESS there is access for the vehicle.
Sometimes there will be no alternative but to unload from the roadside and place the goods onto a suitable area within your property – please bear this in mind when placing your order.
*Any customer ordering our vehicles off the public road do so entirely at their own risk.
Can I pay cash on delivery?
Yes, this can be arranged but please note that drivers do not carry any change so please have the correct money available.
How long does delivery take?
We aim to deliver all stocked goods for delivery in the local areas within 48hrs from the point of order. Special order items can take between 7-10 working days arrive in stock.