Hammerite Smooth Metal Paint Black
From £6.99 Inc VAT / 250ml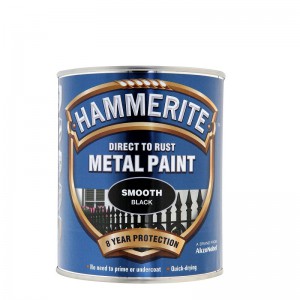 Hammerite Direct To Rust Metal Paint can be painted directly onto rusty surfaces, and thanks to its special 3 in 1 formula there is no need to use a primer or undercoat – saving you precious time!
Touch dry in an hour, Hammerite gives long lasting protection and is suitable for use on a wide range of exterior metal including gates, railings, drainpipes, guttering and garden furniture
Touch Dry in 1-2 Hours
Easy to Use
8 Year Corrosion Protection
Stops Rust
Available in 250ml, 750ml and 2.5 Ltr
Product Options:
🚚 Fast, reliable local delivery in the Gloucestershire Area
We offer a prompt reliable local delivery service six days a week throughout Gloucestershire and surrounding areas. Read more about our delivery options.
Are you interested in Hammerite Smooth Metal Paint Black?
Why not email us, use our contact form or give us a call on 01452 520783 for more information about Hammerite Smooth Metal Paint Black
This product lives in the following categories: