Liteglaze UV Protected Clear Acrylic Glazing Sheet 1200mm x 600mm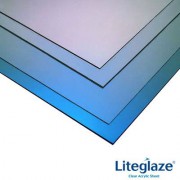 Liteglaze UV Protected Clear Acrylic Glazing Sheet 1200mm x 600mm
Material Uses
Secondary Double Glazing
Replacement Windows (Planthouse & Sheds)
Cloches and Coldframes
Room Dividers
Display Cases
Door Panels
Key Properties
Ideal for a wide variety of interior and exterior glazing and design applications, qualities include:
Flexibility : easily cut, bent and shaped
Excellent thermoforming capabilities
Strong yet light in weight
Safer and 8 times stronger than glass
Simple to handle and install
High light transmission
UV resistant
Excellent scratch resistance
Is easily kept bright and clean
Will not discolour
Good workability : cutting and drilling the material are straightforward procedures requiring only the most basic of tools
Product Options:
🚚 Fast, reliable local delivery in the Gloucestershire Area
We offer a prompt reliable local delivery service six days a week throughout Gloucestershire and surrounding areas. Read more about our delivery options.
Are you interested in Liteglaze UV Protected Clear Acrylic Glazing Sheet 1200mm x 600mm?
Why not email us, use our contact form or give us a call on 01452 520783 for more information about Liteglaze UV Protected Clear Acrylic Glazing Sheet 1200mm x 600mm
This product lives in the following categories: