Ronseal Decking Cleaner and Reviver 5 Ltr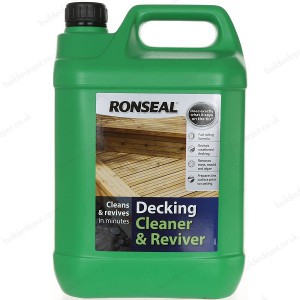 Ronseal Decking Cleaner & Reviver is specially formulated to clean and revive weathered or tired timber decking. The fast acting formula removes moss, mould and algae whilst also brightening the wood and restoring it back to its natural appearance. It is ideal for use prior to treatment, opening the pores of the wood, allowing maximum adhesion of the coating and a longer lasting finish. Not only that, it can also be used as a general cleaner, brightening and enhancing your deck throughout the season.
Key Features
Fast acting formula
Revives decking
Removes moss
Surface Preparation
Always test on an inconspicuous area before use to ensure you achieve the desired result. Remove debris and accumulations of moss, mould and algae using a stiff brush.
Recommended Systems
1. Pour Decking Cleaner & Reviver directly onto your deck. 2. Scrub the surface immediately using a stiff brush then leave for 15 – 20 minutes. 3. For best results wash thoroughly with a pressure washer. Work from one end of a decking board to the other in a continuous motion. Alternatively scrub the surface using a stiff brush then hose down. All cleaning residues must be completely washed away to maximise the performance of subsequent coatings.
Product Options:
🚚 Fast, reliable local delivery in the Gloucestershire Area
We offer a prompt reliable local delivery service six days a week throughout Gloucestershire and surrounding areas. Read more about our delivery options.
Are you interested in Ronseal Decking Cleaner and Reviver 5 Ltr?
Why not email us, use our contact form or give us a call on 01452 520783 for more information about Ronseal Decking Cleaner and Reviver 5 Ltr
This product lives in the following categories: