Scan Safety Wellingtons UK 6 – 12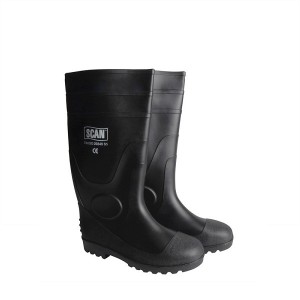 Specially adapted Wellingtons with the appearance of standard equivalents.
Ideal for use in workplaces where resistance to penetration by liquids and hard objects are high priorities.
Features include:
High grade blend of PVC and nitrile rubber.
Resistant to ISO 6112 chemicals and oils.
Treated surface for easy cleaning.
Anti-static, energy absorbent soles for comfort, strength, durability and slip resistance.
Steel toe caps with 200 joule rating.
Steel midsole.
Oil, acid, alkaline, heat (180°C) and penetration resistant soles.
Conforms to EN20345-S5.
Product Options:
🚚 Fast, reliable local delivery in the Gloucestershire Area
We offer a prompt reliable local delivery service six days a week throughout Gloucestershire and surrounding areas. Read more about our delivery options.
Are you interested in Scan Safety Wellingtons UK 6 – 12?
Why not email us, use our contact form or give us a call on 01452 520783 for more information about Scan Safety Wellingtons UK 6 – 12
This product lives in the following categories: